As you might have noticed, I am digging through a pile of old retro magazines in the search for old KIM-1 software. A lot has been dug out, games, applications, mostly really old, unusable and normally not worth mentioning, if it would not be software for the KIM-1, the first affordable homecomputer, ever (pre apple, pre ibm, pre atari, pre ti, etc).
So in the end it's a preservation project. And I found another piece of software worth typing in:
KIM-1 Banner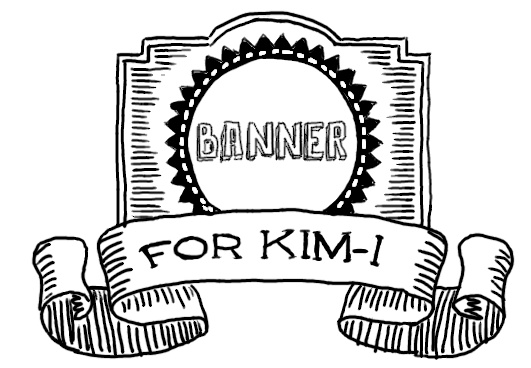 by Jim Zuber, 1979
found in Kim User Notes #18
What does it do? It prints large letters to the serial console (wooooohoooo).
Get it here: https://github.com/netzherpes/Banner-for-KIM-1
Instructions:
Load both parts (program and data).
Start the program at location $2000.

Type in the text you want bannered in UPPER CASE.
supported letters are:

A-Z
0-9
.:,;-+*()$
(return is treated as space.)

End your Entry with an @
hit enter and watch the show

You can easily design your own letters. Onle letter is encoded as follow:
(ascii code)(length of data)(data) whereas $EE equals carriage return, print spaces is defined by a Hex value resulting from bit 7 being 0 and bits 1-6 the number of spaces, print "@"s a HEX Value resulting from bit 7 being 1 and bits 1-6 setting the number of marks.
Example: +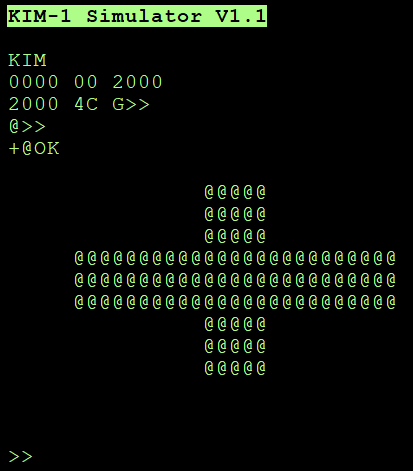 2B 1C EE 0F 85 EE 0F 85 EE 0F 85 EE 05 99 EE 05 99 EE 05 99 EE 0F 85 EE 0F 85 EE 0F 85 EE 

$2B: ascii for +
$1C: length of the data 28 Bytes
$EE: initial new line
$0F: 15 spaces
$85: 5 marks
$EE: next line
.... and so on

After your very last entry of your last letter end with $FF
Have fun, If you do not own a KIM-1 or a clone like the PAL-1 you can also try it in Hans Otten's excellent KIM-1 simulator!
Happy Friday from KIM-1s (and clones) everywhere. Thanks to @masterhit for taking the time preserve this one from the 70s! #commodore pic.twitter.com/YyhPl3IzRW

— mrdoornbos (@mrdoornbos) April 15, 2022